For the record, I didn't call this headboard the coolest.
Since I made it, that would be like bragging.
And while I get really excited to share projects (and I am particularly proud of this one), I wouldn't want to brag about it.
(Too much.)
It was actually my son who called it the coolest, since it's in his room.  It makes his bed very loungeable.  (He even mentioned it would be totally perfect if he just had a tv in there.  So not happening.)
We recently took down his bunk beds and got him a queen-sized bed to welcome him to his teen years.  Then I showed him this picture of a corner headboard:
He absolutely loved it, so I got to work.
Have I ever made an upholstered headboard before? Absolutely not.  Did that deter me? Well, no.  There are so many great tutorials online my thought was this:  how hard could it be?
And it really wasn't too bad.  Two aspects proved a little challenging, but the rest went very smoothly.
Challenge #1:  Selecting and finding the fabric.
I really loved the diamond quilted fabric used in the inspiration picture, but the only similar fabric I could find was online, and didn't have the contrasted stitching like in the photo.
So I found several other options and ran them by the client (aka my 13-year-old), who selected this black, lizard-skin, embossed vinyl.
I'll spare you the gory details, but finding the yardage I needed took me on a chase all over town (for my local readers think Carmel to Nora to Greenwood to Avon — and I called first!!).  But all's well that ends well, and I finally got enough, along with some 2″ foam and batting.
I sent the boys out to Lowe's to get the boards, and before I knew it we were in the garage cutting them to size and sticking on the foam.
For the next step, stapling on the batting and the fabric, I moved up to my office/work room where it was a lot warmer than the garage.  And check this out:
Someone (the same someone I sent to Lowe's to purchase the boards) bought me a new staple gun just for this project! (Although a little bird did tell me there might be some other uses for it around here.)
Which brings me to . . .
Challenge #2:  Stapling the corners.
For the record, my fancy staple gun was not the problem.  The staple gun worked like a dream.
It was the vinyl.  Vinyl is thick, a lot thicker than most fabrics.
Also for the record, the inspiration project from the picture was done by a professional upholsterer.
I am not a professional upholsterer.
But after much pulling, stretching, folding, stapling, unstapling and lots of deep breaths, I did it!! And it looks really, really good.  Cool even!
I've been working on the rest of the room too and will share that with you really soon (there's a sneak peak of the some of the artwork we came up with in the pictures above).  In the meantime, a very special 13-year-old is enjoying his really cool bed.  Even without the tv.
UPDATE:  I've had so many questions about the details of how we made this, that I thought I'd add the project specifications.  Here they are:
Materials:
1″ plywood for the boards
2″ foam and basic batting
5 yards of vinyl fabric
4 Heavy-duty d-rings for hanging both boards
Tools:
Table saw to cut boards (or you can have them cut at the store)
Utility knife to cut foam
Scissors
Staple gun
Dimensions:
Headboard – 24″ x 60″; sideboard 24″ x 50″
Cost:
< $200
Feel free to contact me if you have further questions!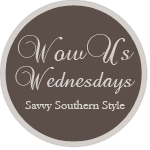 Linking up to Wow Us Wednesdays at Savvy Southern Style, and